It's Getting Grimey Again In The L.A. Rave Underground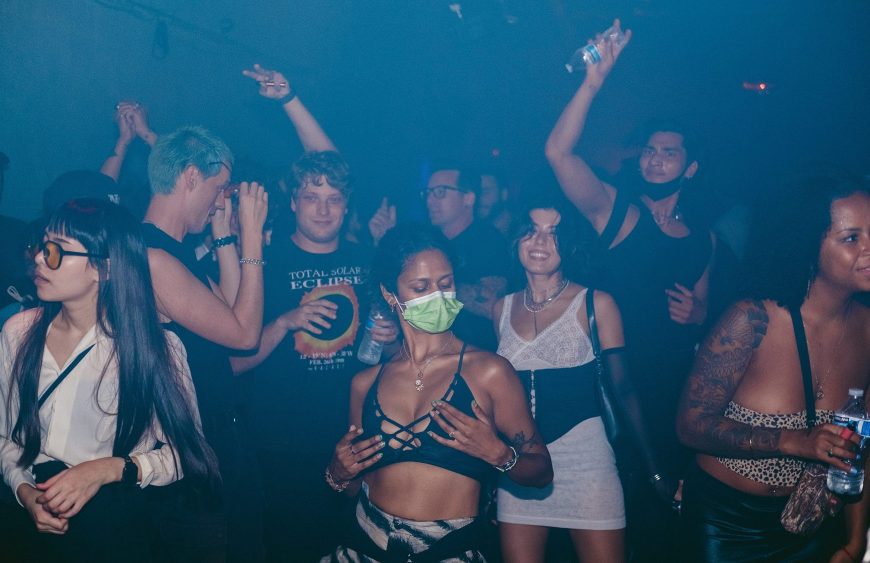 It started in early summer 2021, with renegade punk raves under bridges and in parking lots, wild 200 BPM hardcore playing while partiers from 15 to 50 ripped nitrous balloons and flipped off police helicopters. You'd start the afternoon at a gully Concrete Jungle free jungle party in the graffiti yards or Elysian Park, hit a sound installation at Canary Gallery or a queer party at The Lash, and eventually end up sweating it out at a bunch of off-the-radar spaces known by mystical names like Ceres, The Yard, Gladys and Vertexx. Even as the summer heat burned off and notorious punks skipped town, it became apparent that the scene was holding — something different was going on in Los Angeles, an exciting sea change swelling like a wave from underground.
The renegade rave spirit is back in effect but with a huge vibe shift. Parties no longer live or die on a constant stream of international headliners. Instead, thoughtfully curated local and statewide guests are moving the needle, with greater racial and gender diversity in line-ups and among partygoers as well. Sure, there's a lot of '90s nostalgia and revivalism going around, but there's a ton of new music being played by producers from North, South and Latin America – really exciting sounds in the realms of bass, hardcore, jungle, and breaks and electro, fusing with the influence of reggaeton, perreo, baile funk, amapiano, and beyond.
In 2018, pre-pandemic, parties like this in Los Angeles were few and far between. The scene was dominated by celebrity and influencer-driven events, house and disco clubs, and serious techno all-nighters. But now there are numerous flourishing DJs and promotion crews in the bass-driven underground, legacy parties are expanding the palette of their bookings, and fresh new events – many of them run by femmes and queer POC – are putting on for the cutting-edge of club music in North America and beyond.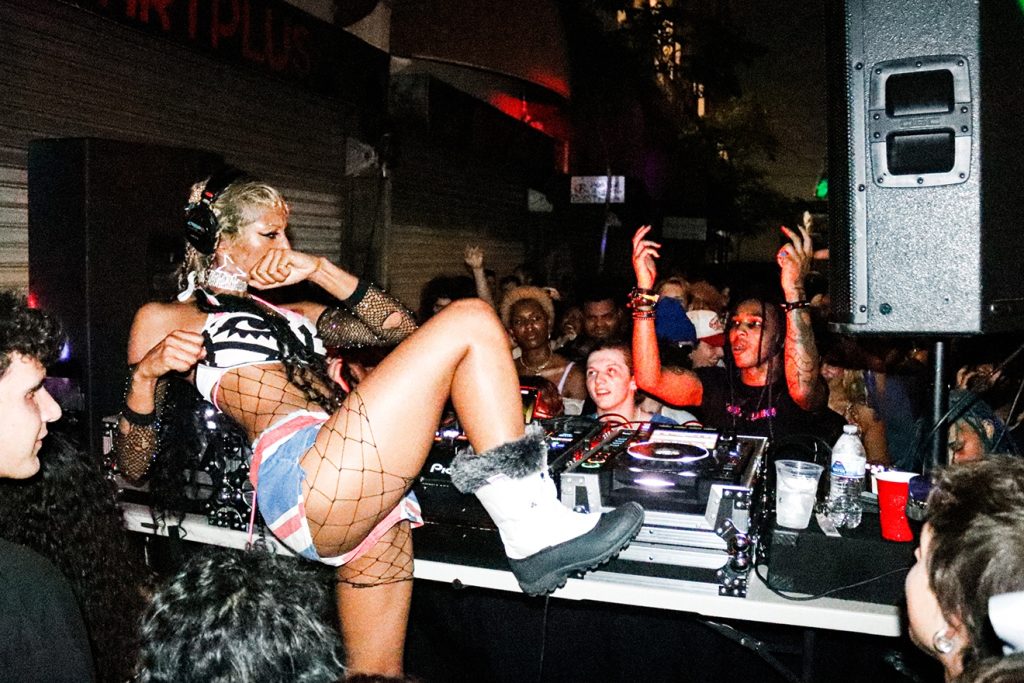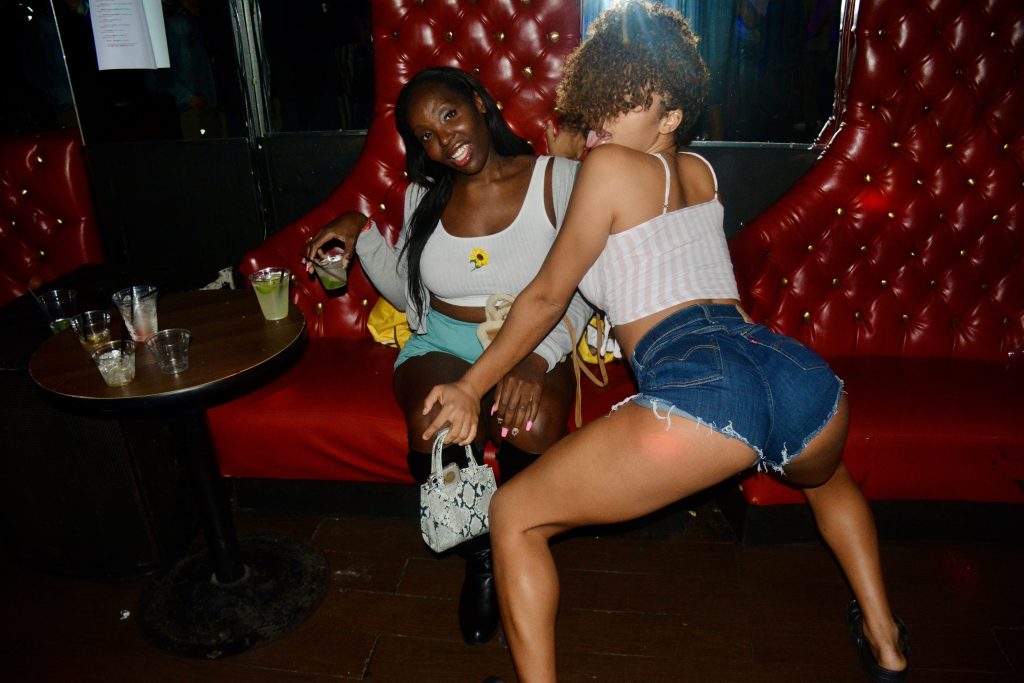 To be clear, LA has always been about the underground, but somehow this gets lost when our image is exported to the rest of the world. We're out here about to fall into the sea, raving 'til the sun comes up in grimy warehouses and innovating new music strains in dusty fabrication warehouses, auto body shops, and abandoned fashion stores in the industrial backsides of the city. Yet all most people see of Southern California is yoga and green juice, mellow disco and house, and rich white kids who live by the beach; guns, gangsters, Hollywood hype and huge EDM festivals.
True Angelenos know that bass
Breakbeat and the harder side of the spectrum – particularly hardcore/gabber, hard house, and jungle/drum 'n' bass – has had a huge foothold in the city since the early '90s, as the UK rave scene hugely influenced the vibe and the bookings of party organizations like Double Hit Mickey, No-Doz, Fry For Five and Organic — outfits that would lay the groundwork for the giant EDM festivals and concerts like Coachella that have become synonymous with Southern California. In the early '90s, Los Angeles already had huge raves (then called "massives"), world-class record stores, and well-organized, big business dance music events before much of the globe. The cartoonish, over-the-top aesthetic of those early days still influences what goes on today, vibe-wise and musically; and not surprisingly, the promoters and DJs of yesteryear are now the ones running local soundsystems, booking agencies and management companies, and even multi-million dollar dance music brands.
EDM has dominated the Southern California landscape, mobilizing a captive audience of millions of teens and 20-somethings for whom festivals like EDC, Hard and Coachella are their first exposure to dance music. This hasn't been all bad – there's a trickle-down effect from ravers who start at EDM festivals and eventually get more into underground artists – but it has made it difficult for DJs and promoters who aren't a part of this carefully-plotted system to gain a foothold. For all the devastating things the COVID-19 pandemic did to dance music, in Los Angeles it created some fresh air – some space to do things differently and a crowd willing to test the limits too.
The "pandemic break" created a rift in time and taste. Fans of electronic music and parties were forced to experience the culture in the only way you could at the time – via DJ streams, internet radio and virtual events. Without the pressure of paying $50 or $150 to attend an event – watching DJs from far away on stages, carefully planning around set times – engaging with different music styles and DJs became as easy as changing the channel. People became more open to new sounds and ideas, new ways of mixing and new rave sensibilities. It decentralized age, sex, location, genre – the platonic ideal of cyberpunk.
Once lockdown was lifted, those who had recently come of age were raging to party but didn't have any particular loyalties to certain promoters or music genres. The same could be said for the thousands of people who moved to LA in the past couple years. "I moved here from New York during the pandemic, and I noticed there's a well-loved feeling at the parties in Los Angeles," says Morgan "Momo" Zakarin, a photographer and hairdresser who can be seen on the dancefloor nearly every weekend. "I feel like the LA scene is super committed. The people of this scene know raves are safe spaces for young people to explore their internal lives and feel into and intuit with others – in other words, they are absolutely essential."
The '90s scene was extremely male-dominated and had a super aggressive edge beneath all the PLUR – it was common for promoters to call the cops on each others' parties, DJs were often at battle, and theft and violence could sometimes be rampant at events. Our corner of the underground has taken to heart the discussions of how dance music culture could be changed for the better. There is more femme/queer representation and recognition behind the decks and behind the scenes. There's more building community, sharing resources, looking out for one another, working together; more drug awareness, information, and testing. Less snobbery and gatekeeping. Overall, there is more intentionality in the rave spaces that people around us are creating – more thought being put into how parties are promoted, door policy, how tickets are sold and priced… Just how does the actual vibe get curated?
Sam XL of Pure Filth Sound has seen it all, from running record labels, DJing and promoting his own parties, managing the Beat Non-Stop record store on Melrose in the late '90s, and curating Coachella stages. Since buying his first sound system in 1992, he's provided the low-end thump for everyone from Doc Martin's Earth to Sea afterhours to Low-End Theory, Dub Club, and Ham on Everything. Most weekends, you can still find Sam presiding over giant speaker stacks at warehouse parties all over town – at nearly seven feet tall, he's hard to miss. With over 30 years in the underground, Sam senses a fresh vibe afoot in the City of Angels post-pandemic.
"One of the most exciting things in LA right now is the LGBTQ+ community coming together and throwing underground shows and taking it back to what was originally started by them," Sam says. "The energy at the shows is super PLUR and the DJs are killing it! Also it is great to see and hear so many female DJs shining – divine feminine rave energy is awesome. I also like that today's ravers are up for whatever; they're not big genre snobs like previous generations. And promoters are taking chances and doing renegade parties all over in interesting places. Just when I thought I'd seen it all in 30 years, someone will surprise me!"
"As I travel more, I am starting to understand what makes the LA scene specifically what it is," says Mapamota. I think that there are a lot of different and random elements that affect the kind of music that gets played here. For example, our clubs close at 2:AM, so that creates a very intense separation between the shows that can happen in legal clubs and bars, versus the shows that occur in private warehouses. The fact that LA is so spread out also makes for less 'bar hopping', so getting over to a warehouse party is a really big commitment and often a significant investment of time and money for a lot of people.
"The pandemic really wiped out the nightlife industry in our city and everywhere," she continues. "It felt like we were starting from scratch after going through something really traumatic together, so I think people were very careful and intentional while rebuilding these spaces. I think it has resulted in people taking care of each other in a whole new way, and in being able to more fully appreciate the moments when we do get to gather. During lockdown I had been having conversations with some of my close friends who were also trying to throw parties and build this with me. When the lockdown started to lift, we threw our first party at The Alley with our friends (which was originally chosen as a venue because it was outdoors and more pandemic friendly) and 300 people showed up! It was shocking to us! All of a sudden we had 700 people showing up at The Alley on a regular night, and it happened within a matter of weeks. I think genuine energy and passion go a long way in this kind of work, and people could tell that we are very invested in music and that we actually care about the people that attend our parties and the artists that we book."
For a city of 12 million people (not even counting those who drive in from the Inland Empire, Orange County and up north), central Los Angeles doesn't have many clubs that are a destination for electronic music. We can probably count them all on nearly one hand: Resident, Catch One, Catwalk, Academy, Sound, Exchange. The latter three are devoted primarily to big-room house and big-ticket EDM shows, and sometimes Latin clubs like Los Globos, La Cita, El Cid and Don Quixote will turn into a rave for the night. A handful of DJ bars like The Lash (RIP), Melody Lounge, and TeeGee keep things rolling with great local line-ups (and so-so soundsystems), but if you want to dance with the bleeding edge of the scene you're heading to a warehouse function.
"The sound systems in Hollywood and nightclubs in general used to be atrocious back in the days," recalls Sam of how this whole thing started. "To me, the DIY ethic of ravers building sound systems or hiring people like Mike Shredder, Sergio Boom Boy, JBL James, 'Sound Factory' Auggie, and 140 Db Tré pushed the clubs to have to compete with the underground. The same still goes on today. The clubs have the money but the staff doesn't seem to care – the underground has the passion and you can't buy passion."
"All our stuff is already so outsider, I don't think it was that big of a deal that clubs closed down," echoes Marci "Aura T-09" Pinna, who heads up the EVAR Records label and parties. EVAR's label mission is to operate above and beyond genre labels and their parties follow suit, pairing the likes of ghettotech veteran DJ Godfather and Boston bass boss Amadeezy with local iconoclasts like Baseck, Flapjack the Kandi Kid and Wheez-ie. "It's all underground all the time here. That's what's so sick about LA – it's like the Wild West of raving. Our club infrastructure in LA isn't as established for this kind of music: because we are so close to the EDM industry, most of the clubs have that vibe and so they are pretty separate from the underground. It's nice to have support so definitely not knocking a good club scene. It's for sure hard to throw warehouse parties – you're literally building a club from scratch in four hours – but the things you gain in terms of a feeling of freedom are unparalleled."
intersection of queer fashion
Also beating at the intersection of queer fashion, art and music for the online age is Tunnel, started in the summer of 2021 by DJs OZA and Palma; their sound veers towards harder techno, breakbeat, and Berlin-influenced art-core, pleasing and teasing a sexy, fashion-forward crowd with headliners like Jasmine Infiniti, Bored Lord and Ariel Zetina. Also in the mix are boundary-pushing local fixtures like Sevyn, John Bryars, Bapari, and Séverine, whose own Xtended Release party keeps it weird, deep, and fabulous for the dolls with everything from electroclash to pop to hard acid. Mixing up tasty realms of fast techno and deep subs is Fast at Work, headed up by SAMWISE and Carré, who invite rising favorites like Livwutang and Black Rave Culture to their intimate, family-oriented warehouse affair. And skewing on the side of hard house, tribal, tracky techno and jack trax you'll find Gyration Station, a monthly thrown by DJ/production duo Trax Unit at The Yard, a cool queer-oriented underground space run by beloved California DJ Mr. Jenifer.
Although they had been carrying before COVID hit, new crowds of partygoers have brought a rush of energy and enthusiasm to events that were already pushing a radical agenda. BAE BAE and DJ Kita's lit Hood Rave event debuted in February 2020 at Earl's Barbershop in South Central Los Angeles, an effort to give the Black queer underground in LA somewhere to party (and a place for BAE BAE's DJ friends like Crystallmess, cry$cross, Half Queen, and River Moon to play). The music is all over the map from hip hop and R&B remixes and cunty ballroom and Bmore club trax to jungle, Jersey club, and hard techno – the crowd vibes to it all. Moving across town, Bianca Maeli, MTooray, Omar ؏, and DJ Sudi's No Nazar party opens up the same space for a more South Asian crowd, mixing Desi beats with global club sounds like Afrobeats and baile funk. And you can't miss Foreigner, who has been at the forefront of creating a club community for the Caribbean and African diaspora on the West Coast for several years now. From amapiano nights to motorsport-themed dancehall bashes to bringing the traditional Trini paint party jouvert to Southern Cali with his Junkyard Jouvert event, Foreigner has stuck to his guns and grown once-cult gatherings into certified bashment ragers.