"Should We Stop Allowing The Grammies To Pick House Music Winners?"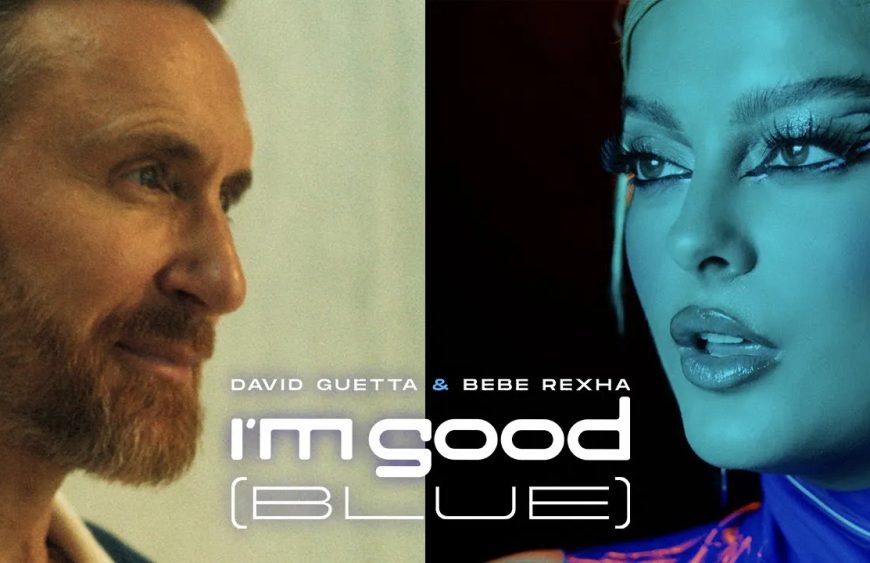 I can't stop looking at David Guetta's abs. They're multi-millionaire abs, the kind that are impossible for 99% of the population, let alone a 55-year-old, but Guetta has the resources to enlist whoever and whatever is required to maintain the physique of a much younger, extremely fit man. I'm looking at his abs because I'm watching the music video for 'I'm Good (Blue)' his pop/EDM smash with American singer/songwriter Bebe Rexha, which is nominated for a Grammy for Best Dance/Electronic Recording this year. Guetta's abs feature prominently throughout the video, as do Rexha's bronzed curves, as they dance at a pool party alongside a bunch of beautiful young people (mainly women) in skimpy swimsuits. (Guetta also appears to be roughly twice as old as everyone else in the video, but this is a whole other topic.)
I'm watching this video because this is the Best Dance/Electronic Recording nomination that really rocked me this year. Never mind my personal feelings about 'I'm Good (Blue)', but the melody that underpins it belongs to 'Blue (Da Ba Dee), the 1998 global megahit by Italian electronic trio Eiffel 65, which was also nominated for Best Dance Recording, in 2001. Guetta's version is essentially an interpolation of the track, with new vocals and generic lyrics somehow even more inane than Eiffel 65's bizarre word salad. So how did such an unoriginal song get nominated for a Grammy? Who actually decides the nominations and the winners in the Dance/Electronic field, and what determines a track or album's eligibility? And what do nominations such as Guetta's say about the kind of dance music that is celebrated by the Grammys, regarded by many as the most significant awards in the music industry?
The Grammys are "the only peer-voted awards in music", according to the Recording Academy, determined by its voting members comprising some 14,000 "performers, songwriters, producers, engineers, instrumentalists, and other creators currently working in the recording industry," alongside registered media companies. Membership currently costs $100 annually for voting members and $120 for media companies. Since 2019, there have been drives to recruit more women and people from underrepresented groups, who now represent 31% and 33% of the Recording Academy's current membership, respectively. To become a voting member, applicants must share two strong recommendations from existing voting members or industry peers and fill in an online profile outlining their relevant qualifications and experience. Applications are assessed, then approved or rejected by the Recording Academy's Peer Review Panel. New voting members must also profess expertise or experience in a specific genre or field and once accepted into the Academy, are allowed to vote in two other fields alongside their dominant genre, and in 10 categories overall, in addition to "The Big Four" awards: Record, Album and Song of the Year and Best New Artist.
So you might be a dance producer who chooses to vote in the dance, rock and pop fields, and you're allowed to vote in categories including Best Dance/Electronic Recording, Best Pop Album, Best Rock Performance, etc. However, according to Charlie*, a Grammys insider, "there's a significant portion of the Grammy membership that applied on their own and were not recruited, and therefore we have no…internal verification as to whether or not they are active in their preferred genre." There's also nothing stopping members from changing their preferred genres in the online portal, something that's not strictly policed, then going on to vote in fields unrelated to their experience or expertise.
From late July until the end of August, voting members, record labels and registered media companies (who must release recordings that meet the same eligibility requirements as nominees), are invited to submit their entries for the following year's Grammys. To be eligible for consideration for the 2023 Grammys, entries had to be commercially released between October 1, 2021 and September 30, 2022. Entries must be nationally distributed in the US and available through third-party online retailers and/or major streaming services (imports are not eligible). This means that if you're a Bandcamp-only artist, you can't be nominated for a Grammy. For the 65th Grammys, voting members were allowed to submit five entries for free, after which point they were charged $40 USD for each additional early bird entry and up to $125 USD each for later entries. Media companies were charged between $65 and $125 USD for each entry, depending on how late entries were submitted. After the entry period has closed, first round voting takes place over 10 days in October.
For the 65th Grammys, voting members were allowed to cast five votes for free, after which point they were charged $40 USD for each additional early bird entry and up to $125 USD each for later entries. Media companies were charged between $65 and $125 USD for each entry, depending on how late entries were submitted.
There were nearly 400 entries in the Dance/Electronic field for the 2023 Grammys. These entries were then turned over to the Dance/Electronic screening committee, a team of voting members and professional members (non-musician industry professionals) deemed dance/electronic experts by the genre manager. Over two days, the screening committee will convene (formerly in person in Los Angeles, via Zoom as of 2020) and listen to all the entries to determine if they are in the right field and category, as per the Grammys' criteria. Max*, who was on the Dance/Electronic screening committee of around eight people last year, describes the (unpaid) deliberation process as "laborious" and the screening committee as a diverse, informed group. "We listened and we debated things and we're all kind of purists. We all know what electronic music is and we know what dance music is," they said. When asked about the inclusion of 'I'm Good' among the eligible Dance/Electronic entries, Max said, "our committee voted the record that you have in question out. We voted Beyoncé ['Break My Soul'] out too."
Mixmag has seen text messages confirming Max's account. The Dance/Electronic screening committee unanimously deemed these two tracks more appropriate for the Pop field. So how did they stay in dance? Well, there's also a national screening committee — a group of music industry experts including songwriters, producers, musicologists and more — who make the final call as to which category an entry ultimately lands in.
It's unclear how many, if any members of the national screening committee are Dance/Electronic specialists. Furthermore, if the national screening committee has the power to overrule the screening committees' decisions — especially unanimous decisions — what's the point of having a screening committee in the first place? "Well, that's what we're wondering," says Max. "It seems like they're performative with these committees. A lot of what happens with the Academy seems very performative."
If you didn't know much about dance music, you might assume, judging by the winners and nominees of Grammys in the Best Dance/Electronic recording category over the past 20 years, that the best dance music is made by white people (mostly men), and that commercial success is a marker of quality.
In the mid-90s, a woman called Ellyn Harris put out some nice house records on her own New York label, Unity Records, then formed the Committee for the Advancement of Dance Music and lobbied the Grammys for more than two years before they decided to include Dance among their categories in 1998.
That first year, the Best Dance Recording Grammy went to Donna Summer and Giorgio Moroder's 'Carry On', which sounds like a lost Eurovision entry (it's no 'I Feel Love'). The biggest club record of the year, Ultra Naté's 'Free', meanwhile, did not receive a nomination. Winners in the following decade included Lady Gaga's 'Poker Face', Cher's 'Believe', Baha Men's 'Who Let The Dogs Out' and Justin Timberlake's 'SexyBack' — all songs that might also be described as pop. In 2012, Skrillex won with 'Scary Monsters and Nice Sprites', two years after the US take on dubstep exploded in the States. The EDM boom had made its way to the Grammys, and the genre has won the category several times since (The Chainsmokers' 'Don't Let Me Down', featuring Daya; Skrillex, Diplo and Justin Bieber's 'Where Are Ü Now'; Zedd's 'Clarity', featuring Foxes, alongside many other EDM nominations). Then there was the infamous Al Walser nomination in 2013, a farce so embarrassing for the Grammys, they introduced a nomination review committee for Dance/Electronic the following year, whereby a team of voting members considered experts in Dance/Electronic select the five nominees from the top 15-20 entries polled in the first round ballot. A Grammys insider says this change led to pop artists no longer dominating the Dance/Electronic field, but in 2021, all nomination review committees were scrapped following an explosive complaint filed by former CEO Deborah Dugan and criticism from the likes of Drake, Jay-Z and The Weeknd, citing corruption and calling for a more "transparent voting process".
Over the years, there have also been some club, house and techno tracks nominated for Best Dance/Electronic recording, but only for artists at the very top of the "underground", such as Basement Jaxx, Chemical Brothers, Daft Punk, Jamie xx and Kraftwerk. Barring a few exceptions, including Jayda G and the 2021 winner Kaytranada, nominees and especially winners in this category have been overwhelmingly white. Since 1998, there have been just two nominations for what could be considered a house track by a Black artist — Jayda G's 'Both of Us', and Beyoncé's 'Break My Soul'. Detroit house and techno acts and Chicago and New York house figures have never been represented among the Best Dance/Electronic recording nominees, though artists such as Frankie Knuckles, David Morales, Steve "Silk" Hurley, Masters at Work, Carl Craig, Dennis Ferrer, E-Smoove, Todd Terry and Hex Hector have been nominated in the Best Remixed Recording, Non-Classical category. The discrepancy between Best Dance Recording and Best Remixed Recording nominees can be explained by the existence of "craft committees" that determine the nominees in what are considered to be specialised fields. The craft committee for Best Remixed Recording, Non-Classical, is composed of 25 voting members with at least six remix credits to their name in the past five years. Craft committee members can also be solicited by the National Board of Trustees to recommend appropriate candidates to join their committee.
While early nominees and winners in the Best Remixed Recording category might please house and techno purists, the rise of EDM was accompanied by a growing number of remixers with EDM credits who could be granted a place on the Best Remixed Recording craft committee (and might account for fewer nominees for house and techno artists in recent years). Members can only stay on the craft committee for five consecutive years without a break. If selected to chair the committee, a member could stay for a maximum of eight consecutive years, but according to the rules and guidelines, "at least 25% of each committee must turn over from the previous year's committee."
The craft committee voting process is more easily hacked, however, according to a former committee member, Alex*. One year, Alex made a pact with other members on the Best Remixed Recording committee to vote for each other, resulting in Grammy nominations for all of them. "It just so happened that there was actually a good list of nominations so nobody asked any questions but it was definitely weird seeing members of the committee nominated," they said. Alex said that in every year they served on the craft committee, at least one committee member received a nomination for Best Remixed Recording.
The Best Dance/Electronic Album category was only introduced in 2005. Male nominees and winners vastly outnumber women in the category, and to date, SOPHIE is the only trans artist to have been nominated in the entire Dance/Electronic field. Biracial electronic duo LMFAO were the first Black artists nominated for Best Dance/Electronic album, in 2010. Following the summer of racial reckoning in 2020, Kaytranada became the first Black artist to win the category in 2021, and Black Coffee was the winner the following year. This year, Beyoncé is just the fourth Black artist to be nominated in the category in 19 years, for 'Renaissance' — the same album that the Dance/Electronic screening committee unanimously voted to place in a different category. While Beyoncé's album "sought to celebrate a club era in which marginalised people sought liberation through dance music", screening committee member Max notes that DJs can't even include an edit of a Beyoncé track in a community radio set shared to YouTube without it being pulled down due to licensing issues. "All these games being played to make it seem like this ['Renaissance'] is a huge club record and it's like, in what club?" Max says. "It's a revisionist concept of the club based on what she [Beyoncé] wants it to be and what their industry goals are, and that's really unfair."
Although Max thinks Beyoncé's 'Renaissance' is "wonderful", they don't think the album or 'Break My Soul' should have been nominated in the Dance/Electronic field "at the expense of taking away from people who work in certain genres their whole life and really dedicate their craft to pushing those genres forward.
"I think the nomination — and then if she wins especially — is another act of defining what electronic music is by virtue of how it's marketed instead of how it's made and the actual originators and composers of it."
Any effort to demystify the Grammys voting process tends to raise more questions than it does answers. The Grammys' definition of excellence in Dance/Electronic music is as it applies to voting members of the Academy, who are not necessarily experts in dance music. Their choices more often than not reflect tracks and albums that have sold well and/or gone viral on TikTok, as was the case with 'I'm Good'. And while a Grammys insider suggested that those unhappy with the status quo should join the Academy and submit entries, music that is not widely distributed and streamed on leading platforms will still be ineligible, which rules out a lot of great electronic music. Considering too that the fate of entries can be determined by the national screening committee, prospective members might be left wondering if joining the Academy is worth it.
But despite the numerous blows to the Grammys' credibility over the years — see also what happened with Jethro Tull and Kacey Musgraves for starters — they're still the most prestigious awards in popular music, and winning or being nominated for one helps artists sell more records, secure more work and demand higher fees. In the Dance/Electronic category, as in others, these winners and nominees have been mostly cis white males, granting them even more privilege over their non-white, non-male peers and further obscuring Dance music's Black, queer roots.
The video for 'I'm Good' came on at the gym the other day, and once again I found myself staring at David Guetta's EDM tycoon abs as Bebe Rexha, dancing atop a yacht in a black minidress and evening gloves, broke into the Grammy-nominated chorus.
"I'm good, yeah, I'm feelin' alright
Baby, I'ma have the best fuckin' night of my life
And wherever it takes me, I'm down for the ride baby
Don't you know I'm good, yeah, I'm feelin' alright"
I have no personal beef with Rexha or with David Guetta. I'm told he's a very nice guy, in spite of the odd excruciating gaffe, and I don't begrudge the man for knowing how to make a hit record. But this is a nomination that feels wrong on many levels, and the latest in a long line of choices that undermine the integrity of the Grammys.