Has Tulum Ruined It's Own Dance Music Scene?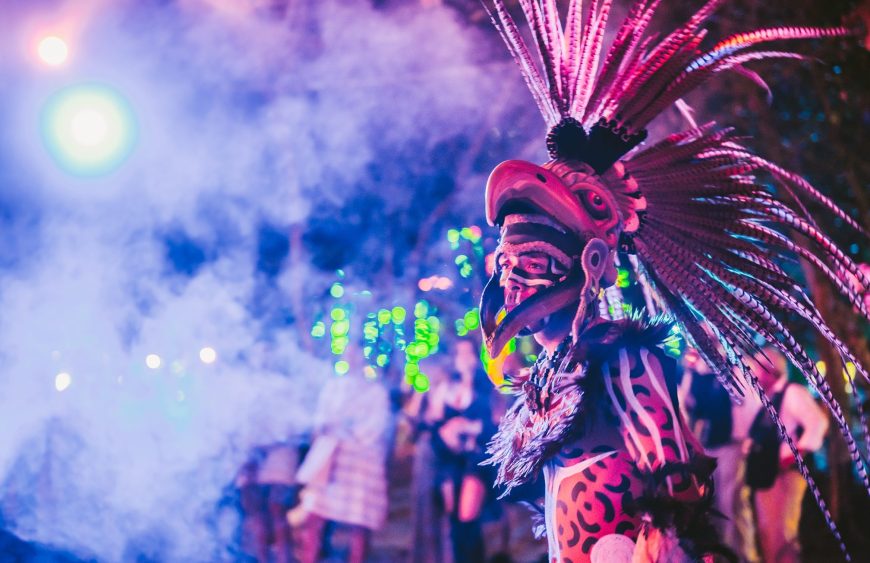 Copal smoke swirls beyond towering palm trees towards a star-pierced sky. Mayan healers, musicians and dancers ascend barefoot from all four corners of Cenote Dos Ojos, the indigenous jungle grounds hosting 11th edition of Day Zero, Tulum's long-standing festival founded by Damian Lazarus.
The opening ceremony begins. A storm of drums, shakers and rattles meet conch shell trumpets, bone flutes and vocal chants that shake the earth. Under elaborate feather headdresses, animal masks, ceremonial make-up and blood-red light, the Mayans summon the spirits to cleanse an undulating mass of festivalgoers of negative energy and ask for their blessing to have an 18-hour sesh on sacred soil.
Electric green lasers shoot from canopies of flora and fauna while drones fly overhead and iPhones fire in all directions, capturing the mind-bending ritualistic performance that's building towards the launch of Day Zero's club stage.
From a spaceship-like booth made of fragmented mirrors, South African amapiano duo Major League DJz heat the decks up to boiling point, before sets from the likes of Major Lazer Soundsystem, NYC house champion Danny Tenaglia, Turkish-Italian rising DJ and producer Carlita and Tel Aviv duo Red Axes follow.
The Mayans erupt into a groove that sweeps a wave of 'Tuluminatis' (international Instagram and TikTok influencers, contoured to the gods in high-definition looks) from snapping selfies for the metaverse onto the dancefloor and into Day Zero's world.
This isn't the first or last time ancient Mexico will meet the inevitable alien future, but for better or worse, for one night they'll be bonded by music and an attempt to respect the indigenous land.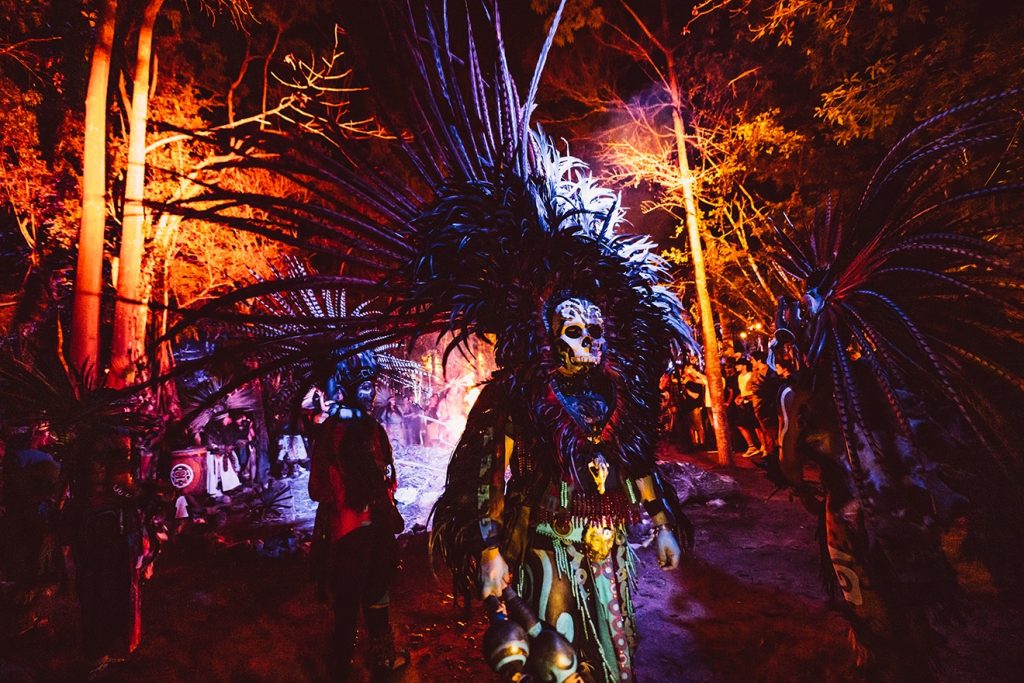 Once upon a time, not too long ago, Tulum was an untouched paradise for hippies and nude bohemians set on miles of opalescent sand, turquoise waters and backed by a Mayan fortress. The first time I laid eyes on it, there were beachfront hammocks that went for $10 a night, and leaving a quesadilla on your towel was a license for a local monkey to steal. There was no wi-fi, and only a handful of working lights, bongos 'round a fire and a taco stand on the main drag.
Fast forward a decade, Tulum has transformed from a backpacker's beach to the new Ibiza. The monkeys have been forced out, and Tulum's magic has been put into foreboding extinction.
In 2023, Tulum is home to 50,000 residents, 2,000,000 annual jet-setters and ravers, eye-watering hotel prices, gringos, shamans, seaweed, sewage, influencers, drug, cartels and flashy club owners and promoters.
Behind all the detoxing and "retoxing", the full moon, half moon, new moon parties, the Ayahuasca, fake peyote, the sun salutations, the viral hype, and the heap of enlightened buzz words like "Eco-chic" is a dark, ugly, truth.
Tulum beach still has no electricity, so diesel generators groan 24/7 to run the air conditioners that the 'new rulers' demand. Waste has been leaching into the water supply since the early 00s due to the beach having no adequate sewer system, and killing the coral reef. In 80% of the Cenotes (Mexican spiritual sinkholes), researchers found traces of skin-care products, cocaine, Viagra, and ibuprofen. And should you have the guts to set aside 30 minutes to watch the hard-hitting documentary The Dark Side Of Tulum you'll discover footage shot by cave divers of an unsettling amount of faeces floating in the rivers that will persuade you to never swim in Tulum again.
Mayans burn Copal (a local tree resin) to protect sacred spaces, and invite creativity and loving energy in. They believe that the scent drives the darkest and most evil spirits away. However, the locals will tell you, Copal is burned in the restaurants, beach clubs and bars in Tulum because it masks the rank and relentless smell of the septic tanks on a busy night. Tulum's old landfill, a few miles outside of town, is full, and a couple of summers ago burned in the heat for three months straight. The jungle is dotted with construction sites for new hotels and condos. Yet the party continues.
The history of Tulum's lawlessness is lengthy to say the fucking least, and profit has always reigned over moral principles. This was illustrated at length in The Cut's harrowing expos Who Killed Tulum back in 2019. In 2023 you have a rising drug war seeping in and club owners that have paid cartels three times to secure ownership of land that was most likely stolen from Mayans, some of which might even be working on that same land. You have gargantuan global parties like Afterlife and Tomorrowland linking up with the local Zamna Festival in the heart of the Tulum jungle. They give half-assed nods to the Mayans by projecting 3D visuals of a man in ceremonial make-up wearing a skirt of vines and shooting lasers to the moon. Sure, they promote punters to use biodegradable glitter, drink from agave straws and bring their own pocket ashtrays. Yet they completely disregard how setting up elaborate soundsystems across three stages, thousands of feet worth of scaffolding, and monumental sound and light production (powered by more generators) will impact the environment.
Back in 2021, when Zamna organisers decided to pull the plug on their marathon 17-day festival due to COVID restrictions, most of the booked international DJs decided to ignore legalities, play anyway, and pack out the place. Few of these artists, promoters and their teams checked the state of the land when the party was over. Even less gave a fuck if any of the pesos they've earned go back into the local community.
Day Zero talks a big game about spearheading critical change, and when I received the invitation to experience its 11th edition in Tulum (a place that holds deep meaning to me) the festival sounded suspiciously like another party collective postering as eco-warriors doing it for "the culture."
The power of percussion and dance was woven into my soul from early, thanks to my indigenous Canadian peers. In my late teens, that combination became the backbone of my passion as a Salsa dancer, a career I carved out on this very land in the Riviera Maya. This is the first place I ever lived on my own, a place that nurtured me into a young woman and where Mexican people injected magic into my heart that can't be replicated. If I was going to co-sign Day Zero, I wanted to be sure its message was authentic.
Not only was Day Zero claiming to shine a light on local talent and the riches of the Mayans, but it was implementing ground-breaking sustainability measures with Petgas. a Mexican company that transforms plastic waste into fuel. All alongside a local and international line-up and on the sacred land, Cenote Dos Ojo.
I'm happy to say that, after stretches of mind-expanding experiences and grilling questions from myself with the creative forces involved, Day Zero is, for the most part, true to its word.
"It was inevitable that the change was coming to Tulum. But someone needs to do something to show festival organisers, promoters and club owners how it can be done positively and how to respect nature while educating party people from around the world about the roots of this beautiful culture that is so close to my heart. If I was ever going to throw parties here, I made a promise to be loyal to this land, and I've stuck to that. Day Zero will not leave a space without the land looking even better than it did before we arrived on it," Damian Lazarus, creator of Day Zero, DJ, producer and label boss at Crosstown Rebels, explains.
Damian formed his deep love and respect for the Mayan Riviera back in 2010 during the Playa del Carmen / BPM Festival days. As the Tulum scene gained traction, he was being asked to DJ at more and more openings, but was reluctant to be part of what he saw as more of a problem to an untouched paradise he treasured than a solution of how you could rave on it.
In 2012, everything changed. The Mayans had declared December 21, 2012, the end of their lifecycle. Damian was inundated with dreams that this was his opportunity to celebrate a new chapter and a new beginning and to do something positive for the scene. He flew to Mexico and was told he had to meet Mayan healer, fearless political activist, rebel, student of medicine, martial artist and multi-hyphenated performer Carlos "The Reindeer" Sanchez.
"Various people were coming to interview me on television to confirm whether or not the world was ending! But what they didn't realise is that Mayans don't focus on the end of a life cycle. Instead, we celebrate a new beginning and a spiritual rebirth about to occur," Carlos tells me behind eyes that sparkle like shooting stars.
"I met Damian, and he told me he had a dream. I said, I already knew. I had visions a long time before him about people coming from far away to exchange energy in the jungle. They were going to unite through music, art, and Mayan culture. I could already visualise what Damian wanted to do. I knew he'd been having these dreams. Dreams that he needed to meet me. "
On December 21, 2012, the first-ever Day Zero took place in Playa del Carmen. Massive Attack headlined with a 3D show alongside James Lavelle (UNKLE), among other acts. Carlos was performing Mayan dances that were 1000 years old and handling crowd control of the spirits while orchestrating the dancefloor's energy.
"The energy was like nothing else even I had felt. People were really partying like it was the last day on earth. At one point, people were calling home, and everyone was kissing and hugging," Carlos laughs. "For us Mayans, that was crazy to see because, of course, we knew it was about the new cycle, not the end. But some point after sunrise, the people caught up to us, and the party was even more magical. It was the first of many to come."
Carlos wouldn't be the only one side by side with Damian from Day Zero's debut. Legendary and highly skilled Mexican producer and multi-instrumentalist Diego Cevallos aka Métrika would also play a huge part in the festival's success.
Over the years, Day Zero's bill has been stacked with international techno and house heavyweights such as BLOND:ISH, Black Coffee, Four Tet, Seth Troxler — the list goes on. But one of the most unique and talked about elements each year has been the formidable selection of Mexican talent. "I've played every single year from the beginning of Day Zero. From the very first edition, Damian and I talked about having a Mexican-only stage dedicated to local artists, but it didn't happen. Finally, three years ago, he called me and told 'Hey, we have to do it this year, and I want you to curate the stage'," Métrika smiles, sipping a mezcal in a tree house we're both perched inside a few hours before his Day Zero set.
"The original idea was to have a more experimental thing. So the first year, I invited mostly underground musicians from all over Mexico to soundtrack a film. It was only live acts, no DJs and more of an immersive performance, art installation type thing," Métrika explains. "But I told Damian that for the second edition, we needed to go to the dancefloor. So last year, we had a great fucking line-up and the dedicated El Teatro stage, and it was a great party. The Mexican acts were one of the most talked about from the festival!" he blushes. "I've been doing music for 20 something years in Mexico, so I really know who should be here. I have lots of friends, very fucking talented friends. I always have something in mind, and then I take it to Damian, who listens to their stuff (because a lot of the artists he doesn't know). Then he will send me a message: 'Yes, yes, yes!' I haven't had a no yet."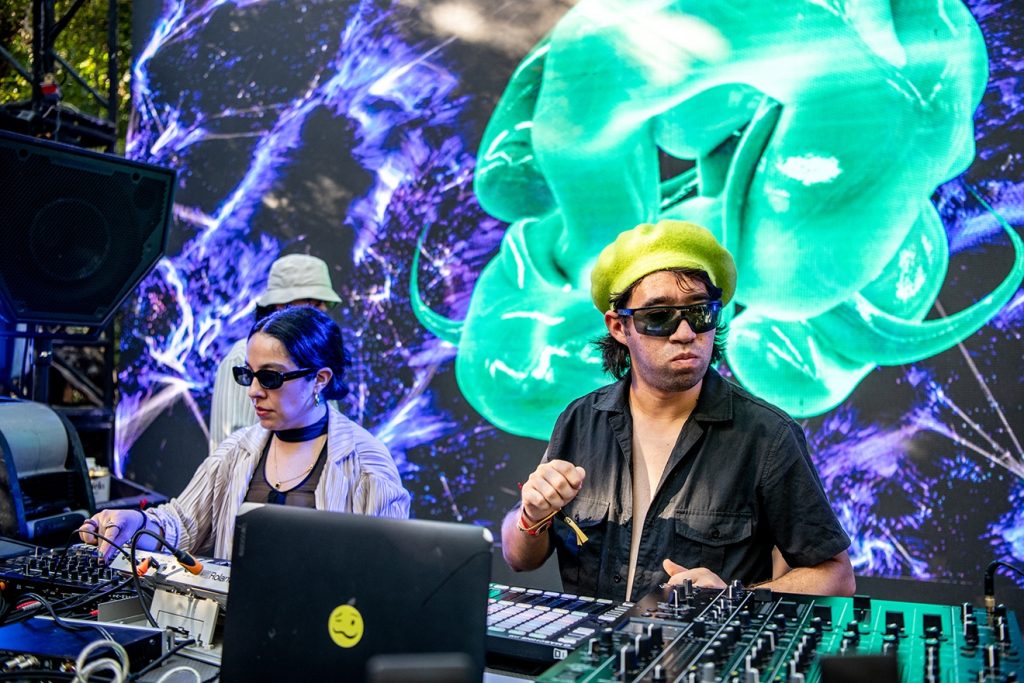 What makes El Teatro, a dedicated Mexican stage, vital and unique to the Tulum scene? Métrika has the answer. "I think it's super fucking important! It's a fucking shame being Mexican, we're still struggling all the time. I'm Mexican, I love Mexico, and I live in Mexico. But I have to struggle 5000 times more than other people in the industry to break through". He continues: "Day Zero is the only festival in Tulum that has a dedicated Mexican stage and has done this. It's insane that we have all these other festivals here, yet when you look at the line-up, they've invited only one Mexican, and he or she will be the opener, not the headliner."
Zombies in Miami duo Jenice Martinez & Cani have shared the bill several times with Métrika and met Damian Lazarus in a van travelling from Valencia to Barcelona to play a festival where their synth-driven house and techno hybrid performance secured their slot at Day Zero.
When we meet, the Aguascalientes couple are gearing up for their first Day Zero sunrise set. "We wanted to play Day Zero because it's one of the most authentic festivals. The people who come are actually very different from the other parties in Tulum," Janice says. "It's not like a big concert like the other ones," Cani pipes in. "We have been playing Tulum since six years ago, and it was totally different. The first place we played was a small party in Old Town with locals and people from Tulum. We played Papaya Playa and you could see in the crowd there were Mexicans. Now, it's very rare to see Mexicans in Tulum and even more rare to see them in a festival like tonight."
It's not only for Tulum. Mexican artists getting top billing within their own country is still no easy task. Zombies in Miami explain: "I think the biggest challenge we've faced is living in Mexico. It's not an obstacle, but we had to fight harder and work more. It was super tough at the beginning of the project, Zombies in Miami. We started in 2011, and the project's sound was not house, it was not trance, it was not techno, it was not indie dance. So sometimes the people came to see us and were like, 'What are you doing? Which kind of music is this?' We decided to try and play outside of Mexico, and sure enough, we found fans hidden in Europe. We had people saying, 'This is cool. This is different.' When we came back to Mexico, the spectrum of sounds in electronic music was growing. Because we'd made a name for ourselves outside of Mexico, we started getting booked more and [getting] more fans, which is crazy. Thankfully the technical ability, diversity and experiemtalism of sounds is still getting stronger and stronger here. You can see many examples of that in the line-up Diego, Métrika and Damian have curated here at Day Zero."
Métrika adds: "Honestly, what I love the most, is all the comments from the crowd (and not only my friends) that the music at El Teatro, the Mexican stage, is sick. Because it is super sick. It's different music. 90% of the music is live. I'm super honoured and proud that Damian invited me in to do this. My only other goal for the future is that El Teatro stage is packed from the beginning until the end."
At the 2023 edition of Day Zero, El Teatro was buzzing until the following afternoon. But that isn't the only element fuelled by locals and catching everyone's attention. Day Zero's Manager of Sustainability Grace Barros explains that all food vendors at Day Zero use organic products from local communities and farms and are served with 100% plastic-free utensils to support sustainable architecture and better nutrition. The clothing market is made up of a selection of local brands and small families whose products are handmade and exceptionally unique. The "festival make-up" hundreds queue for is applied by locals. The bars are run by locals. Much of the production and visual artwork is created by locals. Each Day Zero festival employs 300 to 1000 Mayans annually.
Shortly after meeting Grace, I'm led to a giant hollowed-out Jaguar made of iron that's filling up with bottles and other plastic waste. Chucho, the founder of Petgas and part of Day Zero's sustainability initiative 'Crosstown Conscious' is waiting for me. He explains that in 2022 Day Zero partnered with his company Petgas to convert all the plastic waste at the event into fuel. This year, Day Zero has expanded its partnership with Petgas to involve the UN and place these Jaguars all around Tulum, Playa del Carmen and Cancun. More than that, Petgas's fuel has powered all the generators on Zero's site for the past two years.
When I'm invited a week later to have a private tour of Petgas' top-secret plant in Cancun, Chucho's son Diego (a ghost producer on the side) introduces me to a future that blows my mind. "We only got our patent eight years ago when we came in contact with the engineer behind this incredible technology. Today a lot of people know the name Petgas, but still, when you tell them what we do, they can't believe it because it's so amazing!"
Inside the plant is a brightly coloured and meticulously organised plastic playground of high density, low density, polystyrene, you name it. 35 workers separate the plastics — which come from beach clean-ups, the Jaguars and businesses that have signed contracts with Petgas, like Day Zero — while listening to Rancheras sing out of a boombox, and two dogs run around. These plastics are then converted into microplastics daily and then into fuel.
"For us, plastics are gold. It's fuel, not trash. The plant you see here in Cancun can transform 4000 kilos of plastics per process, and a process is about 10 hours. In that time four tons of plastics will be turned into five types of clean fuel: Kerosene, Ultra Low Sulphur Diesel, Parrafin, Gasoline, Propane/Butane," Diego explains.
Currently, Petgas can only operate business-to-business trade, and gasoline for auto consumption is their biggest sale. However, when I asked Diego when we could see Petgas stations popping up around the globe, he couldn't be less interested. "Maybe one day, but for now our goal is to mitigate the use of plastics and save the planet. We would like to get more involved with other festivals like Day Zero, fuel their generators and show them how the scene could change for the better. We'd like people in cities worldwide to buy into our Jaguar scheme so that disposing of plastics is much easier and our impact is greater," he beams, as two security guards escort me back to the car and Diego drives me to the airport on Petgas fuel.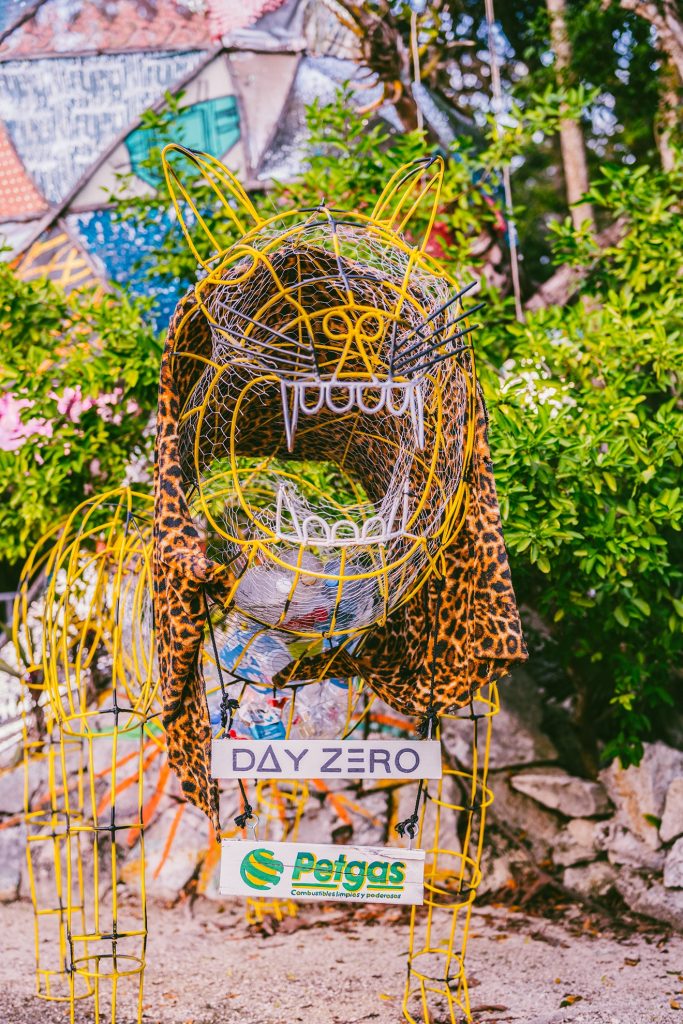 Generators aside, the logistics of putting together a festival like Day Zero isn't simple. Eden Schroder, Day Zero's experience director, adds: "Day Zero is one of the most complex festivals to put together. The fact that we pull off the festival each year with all the complications and challenges we have never ceases to amaze me. But one of the reasons Day Zero is unlike any festival is because of the environment it's created in and the culture behind all the work. We have a team of Mayans who build things in a way no normal person from any city could ever understand. They climb trees covered in spikes with no shoes to intertwine the roof of our club stage. They help us build tree houses and structures to overlook the jungle and the stars. The details these incredible people put into every project they're given are truly remarkable. I've been to a lot of festivals/parties, and I've never seen the intricate work and details that our team creates."
The magnitude of multi-sensory visuals at Day Zero is phenomenal. Stalactites illuminated by deep violets, pinks and reds hang over a swimmable, on-site Cenote, rippling to the Afro-leaning deep house AMÉMÉ is pumping from the main stage. There's a giant tree made of fibre optic tentacles at the front entrance called 'The Tree of Life' which appears to undulate to the beat, changes colours and looks as though it's been teleported from Avatar's Pandora. Nestled on one of the vine-laden jungle pathways between stages is one of the most intoxicating visuals of the festival, whether you were chemically waved or sober. Two 3D faces float between the trees kissing and melting into each other from all angles thanks to video mapping. El Teatro is flanked by live performers from fire jugglers, otherworldly aliens on stilts, and a series of psychedelic projections. There are endless spots to be transfixed, many that I'm sure I didn't discover, but nowhere at all to take cover if it rained.
Among Carlos' long lists of jobs for Day Zero is also controlling the weather. "It's not as though I am making clouds and telling them where to go. If it looks like it might rain, I can manipulate that with the way we dance, the fire we use, and the sound of our drums. By understanding the elements," he winks. "One year Damian was panicking. He called me and said 'Carlito, can you do something? Please!' I asked him what time he wanted it to rain? He said just at the closing of the sunrise set. I made it happen, and that's the only time it rained at Day Zero."
That's not all. Throughout the 18-hour festival, with so many different styles of music and frequencies, Carlos explains that another vital role he and the Mayans play is controlling the energy of the crowds. "No matter what BPM the DJ is playing, I understand that because those rhythms come from my ancestors. When we stand around a drum and sing, the higher frequencies call the spirits. So what do you think is happening in a rave? What do you think is happening on a dancefloor? It's a rain of spirits coming through. By the end of the night the floor is charged with all this energy that the dancers have put into it." He pauses. "But the frequencies between the beats can also unlock darkness or trauma within people. So if I notice that the beat is too hard at one stage or the crowd looks dark, or even if the trees are moving a certain way like they don't want us there, I will start drumming to change the energy. I'll say incantations over the PA to switch up or add to the energy with the DJ. You can find my tribe all through Day Zero drumming, playing music, dancing and perfecting that.
"As Mayans, we gather around to dance out trauma, heartbreak, anger, and happiness. We kill our ego dancing in drum circles. That's what I want the crowd to experience at Day Zero. "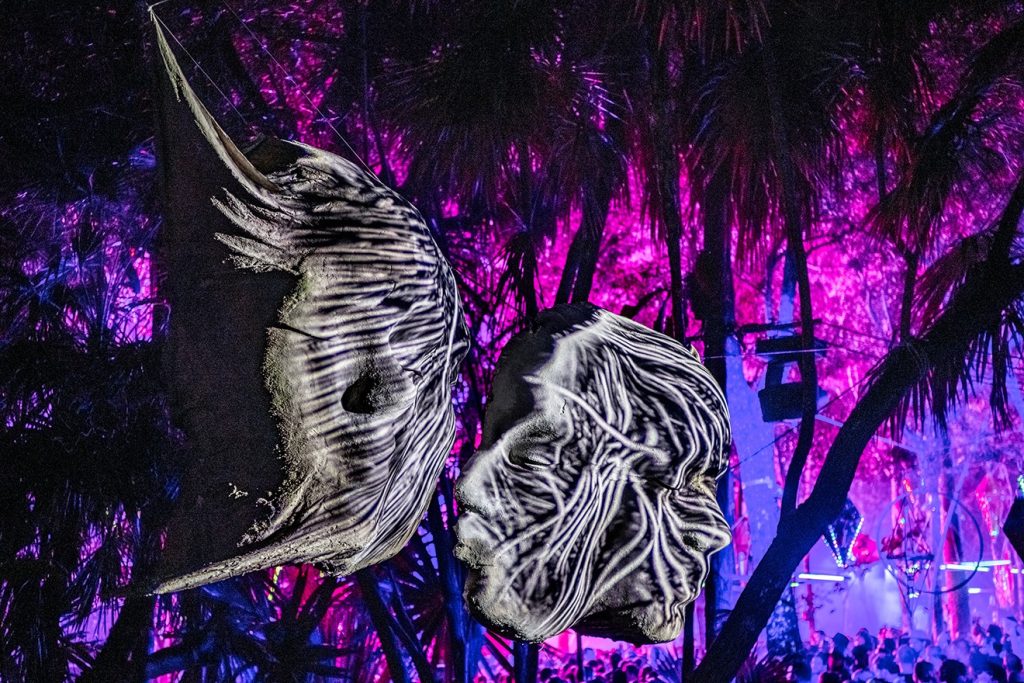 Day Zero isn't faultless. There are single-use plastics on-site, punters snapping pics in headdresses and certainly no models partying in the jungle with pocket ashtrays, but what hits is how much effort is put into elevating minds during the event, restoring the space afterwards, and Day Zero's eagerness to keep improving where other festivals and parties on the scene haven't taken the first step.
Yes, Damian Lazarus is the one who is bringing all these awe-inspiring artists together. Yes, he is an artist on many levels, a tastemaker — but he is also a businessman. Talk to others in the Mexico scene, mainstream or underground, and many will pose the same question: with the Mayans' influence at Day Zero and the phenomenal local talent igniting the crowds and selling tickets, "Does Tulum need a white saviour, and is it Day Zero?". Carlos gives his answer: "We are Mayans. When the government came to the Fortress in Tulum and asked us to pay them taxes we defeated them. When they wouldn't include us in the constitution or give us equal rights? We declared war. We declared war on our own government and won. We are warriors, and I am a guardian of this land. I have a commission from Mexico to protect holy places like this. That's why Day Zero is even on this land. Because the owner trusts me and knows I was part of ceremonies here for years before Day Zero and that my ancestors were for centuries before that. If we didn't want Damian here, he wouldn't be," Carlos articulates, "Damian needs us and Day Zero and Damian give Mayans a chance to perform, educate, elevate minds, exchange and showcase our culture to people from all over the world who might never know about Mayans or might not get how sacred it is. It's a chance to save our ancient culture from being erased. " Carlos takes a breath and smiles. "Day Zero is bridging a gap between the Ancient Mayan world and the future. Mayans who work at Day Zero dance in the crowds on their breaks, chat with girls or boys, maybe have a beer with someone from the other side of the world and go home with money in their pocket. For us, this is a chance to be included in what's happening here in Tulum and make money from it. For once, we don't feel like outsiders looking in at typical 'Tuluminatis' that party on our land but turn their backs to us on the streets."
Outside of the festival, Day Zero's support for the community continues. School Músic Day Zero was created in January 2023, a collaboration with Fundación Landel to bring guitar, singing and piano teachers to the local children of Tulum. The program lasts for one year and will be renewed every year.
As the sun comes up, Damian is holding court in the centre of the jungle on the main stage, which is at the base of hills that create an organic amphitheatre surrounded by trees and a jaw-dropping multitude of lasers and lights. He's playing B2B with Jamie Jones and giving their track 'My Paradise in Paradise' its first spin. In the distance, a parade is beginning. 120 performers from Day Zero's various different tribes dance through the crowd. Drums pound as they throw flower petals and coloured smoke flares, and come together for the first time at one stage.
"This is always my favourite time. When I look out, it's this beautiful bedlam of dancing bodies, this magical madness. At this point, I can relax and enjoy what we created." says Damian. When pressed to reveal his proudest achievement over the 11 years, he shares: "Of course, after over a decade worth of Day Zeros, like any festival, when you actually start to break even, that's something to be celebrated. But the most important thing for me is that I have a team of people who are entirely devoted to this project. Everybody works together as a family unit. Everyone cares about creating an event that is completely unique and second to none. They care about fusing ancient traditions and future ideas and how we can work together to protect nature and set an example for the future generations of how festivals could and should be done.
"For me, Day Zero is about finding places where we can learn from certain traditions from the past, create a better future, and do that collectively with the best DJs and party people from around the world."