Do You Think Dance Music Is Getting Harder And Faster? Here's What Some Are Saying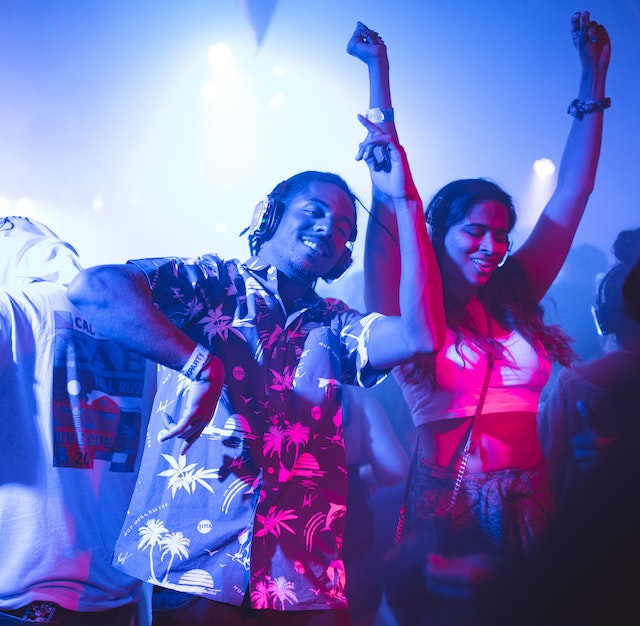 Just north of Tempelhofer Feld, Berlin's idyllic former airfield turned public recreational park, lies one of electronic music's most witnessed scenes. In front of white tiled walls, lit by a single neon-yellow, but occasionally neon-blue, or neon-whatever strip light, sits a simple DJ setup – a pair of CDJs, sometimes Technics 1200s, a 4-channel mixer, and two Mackie monitors. In the past couple of years, the setup has become well accustomed to blasting fat, fast kick drums.
The scene is of course, HÖR, dance music's viral toilet radio station that has been populating YouTube's recommended sidebars for the past few years with DJ streams. While its bookings policy is diverse – from hosting old-school electro and trance, to Romanian minimal – many of the sets most associated with the platform (and most watched) are of fast, pounding, in-your-face techno.
As of writing, Ukrainian selector Daria Kolosova's hefty 50-minute set from September 2021, with the CDJ pitch faders almost constantly pushed close to the bottom, has been viewed 2.3 million times, and SPFDJ's two no-holds-barred appearances have a combined 3.5 million streams.
During the global lockdowns, HÖR attracted a young audience who were coming of clubbing age and itching to experience a proper night out. "[It felt like HÖR] was the only thing going on at the time," says Impulsive Behaviour, real name Casey Seaward, a 20-year-old techno DJ from Indonesia, now based in London, whose sound can best be defined as tough and rapid.
With its low-key yet scuzzy aesthetic – that accent of industrial-era crud that most of us only ever experience on a night out – it became the perfect antidote to the sourdough-baking, houseplant fretting, downtempo and ambient soundtracked grind, which underscored the cycles of lockdowns during the pandemic's height.
Since then, the hard and nasty techno sound – played fast and mixed quicker – has proliferated well into the mainstream, particularly in Western Europe. Key parties including Manchester's Teletech, London institution FOLD's Sunday party UNFOLD and Paris's Possession Festival have become destinations for the sound.
And with that has come a stream of artists and collectives who are pushing the envelope of BPM counters and kick drum distortion. The Herrensauna collective, including resident Héctor Oaks, sell out shows across the world, while the Instagram caption of Teletech resident Charlie Sparks's label ELEKTRA is "FAST PACE TO THE FACE".
In July 2021, VTSS, who has a reputation for her boisterous sets tweeted a screenshot of a reply to an Instagram story she posted of a set she played in Paris, which said: "Pleaseeee faster and harder next time [praying hands emoji]."
Her reply: "Paris techno folk scare me, I literally started at 145 bpm."
But it's not only in techno circles where the energy dial appears to have been turned up to 11. Breaks-laden hardcore and jungle have become front-and centre of the 170-plus BPM sphere, as Nia Archives's award-gathering 2022 or mixtress's recent success would attest to, while SHERELLE and NAINA's ever-popular and ever-creative Hooversound Recordings continues to find exciting ways of bridging jungle, footwork, drum 'n' bass, dubstep and more.
Speed garage has found its way not only into the sets of garage DJs, but also house and techno sets. Even Young Marco, a DJ who nearly a decade ago made his name playing vocal disco cuts and music on the more soulful end of the electronic music spectrum, has been blasting full speed ahead '90s trance cuts.
So why is it that so many selectors, dancers and promoters have gravitated towards mind-melters and fist pumpers? We spoke to some DJs and party people to find out what is driving the trend, and what it means for music (if anything at all).
Impulsive Behaviour was in his late-teens when he first moved to London from Indonesia. Initially too young to get into a club, and then prohibited by the pandemic, he was developing his taste through spending hours upon hours in his East London flat digging on YouTube, Bandcamp and Discogs through old and new techno. Having originally found his entry into DJing via house and deep house, it was his older sister who first started introducing him to the darker, heavier end of the four-to-the-floor spectrum.
"She met this guy who ran a techno label and she introduced [the sound] to me, and I was like: 'Oh sick,'" he says. "It brought something stronger [than house music] to me. But it was completely different, because during that time 130 BPM to 135 BPM was considered fast, so the people around me who liked techno, I showed them the label and they were like: 'It's pretty hard, pretty fast.'"
His first clubbing experience came at the age of 19, seeing hard techno pioneer Dax J within the hallowed walls of fabric – where thousands down the decades have had their dancefloor epiphanies. "I moved in September 2020, over that summer when COVID-19 hit, when I first started discovering this side of hard techno," he continues. "Even then it was still like 140 BPM to 145 BPM max – it wasn't until I think 2021 when I started finding out that 145 was the minimum, and people were playing up to 160 as well."
As a young dancer and DJ who spent his 18th birthday in a flat celebrating via Zoom calls and socially-distanced outdoor exercise, it's no wonder that the more boisterous end of techno, which is all about projecting extreme energies, appeals to him. And he's not alone — as a generation of young clubbers, each with their own pent up lockdown energies, have had to search for their release over the past 18 months.
A long-time fixture around Europe (and the world's) techno scenes and an artist well known for his skills on the 1s and 2s, Sunil Sharpe thinks part of the reason is also down to a loss of clubs on the circuit in the past half decade or so. "I think [harder and faster] music has developed as the club industry has downsized," he says. "In ways the traditional nightclub environment used to regulate tempo but as the amount of clubs has thinned out over the last decade, it feels like the scene has moved more towards locations that capture the original spirit of rave culture when tempos were faster.
"The pandemic has extended it too, new scenes developed during that period and it also feels like a lot of teenagers, who are now old enough to go out, didn't get to experience their teens in the same way," he continues. "It's playing out closely to the '90s – very specific subgenres like jungle techno or tech trance or hard acid have made comebacks. Although these are old sounds, some newer producers have put great spins on the styles and with enhanced production."
And it is this young generation of clubbers, DJs and producers who are at the forefront of the movement. Quail, real name Darren Quail, has been heading up long-running Glasgow techno party Animal Farm since 2004, one of the city's most influential collectives and outfits, which in March last year launched a new event called NEED 4 SPEED. Fitted with a "NO WARM UP" policy, he says the idea came from AISHA, a young DJ who he now works with on the parties, as a response to a new generation of clubbers and dancers going to his events since the pandemic.
"It's the youngest I've ever seen people in the clubs," he says. "I'm looking at our ticketing stats and the average age used to be like 23, 24 and now it's between 18 and 21."
He had first started noticing BPMs creeping up in the latter half of 2019 and beginning of 2020, before the pandemic forced clubs to shutter, but the big change came in July 2021 after they reopened. "It wasn't like the genres or music was changing [before the pandemic], things were just getting played faster," he says. "Through the pandemic, the faster pace was still staying – but then once everything opened back up, it was like boom – people were just wanting it fast from the beginning. People don't know what a warm-up is anymore."
In normal times, people gradually fall in love with clubbing, partying and electronic music just as others tail away. But with the pandemic condensing two years of this cycle into one day – July 19, 2021, the shift in demographic was seismic.
"My whole take on the faster, harder side of things is that people turned 18 over the pandemic," he continues. "They'd heard about techno, but they'd never experienced a club [and] they were listening to stuff in the house, coming from maybe hard dance, or hardcore or ravey happy hardcore stuff. Then they burst into a club and want to hear things at 100 miles per hour because they haven't heard anything different."
Perhaps one of the key artists at the forefront of the movement is fellow Scot TAAHLIAH. Heavily influenced by – but not limited to – techno, her singular style draws influences from pop and hardstyle, landing her bookings at techno events such as Teletech, while also sharing stages with the likes of avant-garde pioneers LSDXOXO and the late, great SOPHIE.
Having moved from Kilmarnock to Glasgow to attend art school, it was a six-month stint in Berlin before the pandemic started that got her into the local sound. "I've always enjoyed dance music since I was young," she says. "Before I was one of those music listeners that thought that four-by-four techno wasn't that exciting, but then when I got to listen to it more through going to places like Berghain or Griessmühle, a real appreciation started to develop for not only [the music] but also the situations it could create as well."
It led to the sound creeping in and influencing her musical style – both DJing and the tracks that she had begun to produce – culminating in her 2021 breakout debut EP 'Angelica', released via untitled (recs). A diverse six-track romp, the songs span aggressive experimental techno, hard dance and dreamy pop, seeing her win both the Best Electronic Artist and Best Upcoming Artist at the Scottish Alternative Music Awards (SAMAs), as well the AIM Award for Best Independent EP/Mixtape.
"I think when you're new into the music industry you have this idea that in order to gain success you need to be consistently making, consistently doing," she adds. "I have done that but I guess 'Angelica' just took off and I didn't imagine it necessarily would take off as much as it did."
The music of that EP, as well as her now well-defined sound across her productions, live shows and DJ sets, takes that grounding from the music heard at nights spent in Friedrichshain clubs, and turns it into something completely her own. "I think every artist wants to take something and create it for what they want it to be," she says. "I have felt a real need to provide something different, and it's not necessarily that what I do is better or worse, it's just the way that I work."
With much of the past decade of techno being dominated by kick drums spaced between 120 BPM to 130 BPM, one way of a new generation of artists to make the music their own has been to push the energy and BPM counter north.
Like Quail, long-time DJ and award-confirming underground hero Man Power first started noticing the change in music tempo and energy in 2019. "I remember moving to a new agent and them saying that all they were being asked for was DJs who play at 140 BPM," he says. "It was a shock to me that people were describing the music by its tempo rather than what it was."
But like TAAHLIAH's unique blends of different sounds, he sees the change as being part of the younger generation of artists and DJs taking music and making it their own. "I don't think it's very unusual now to hear young DJs playing all of the genres," he says. "Rather than delineate themselves and say: 'I'm a fast techno DJ', 'I'm a breaks DJ' or 'I play drum 'n' bass' – but what it has in common is the energy of it."
Holistically though, he sees the change in energy as being part of the natural ebb and flow of dance music. In 2008, when DJing in the afternoon sunshine at an early edition of Electric Elephant Festival in Croatia – a precursor to the large numbers of summer festivals that now line the Adriatic Coast – people would come up to him and ask: "Where's the techno?"
"Five years later, you'd be playing techno at four in the morning, and people would come up to you and ask: 'Where's the disco?'" he recounts. "With any new influx of people at any given time, if you're young you want to reject what came before you and you want something that's completely yours – and dance music culture is for the most part youth culture."
Man Power was 12 years old when he first started getting into electronic music, now over three decades ago. His first introduction came through The Prodigy's debut studio album 'Experience', which he would rinse on repeat on the CD player in his home. Released on XL Recordings in 1992, it became an instant classic for its futuristic take on hardcore, jungle and breaks.
At the time though, with its in-your-face breakbeats and vocal samples, it wasn't quite as definable as the myriad genre boxes that are used to describe dance music as now. "It's what we call hardcore now," Man Power says. "But it was just rave back at the time."
While he grew older and started discovering other forms of electronic music, finding himself drawn to the subtler end of it and building a collection of oddball electro, headsy disco and deep, groovy techno, he understands the attraction. "My daughter is 12 years old now – if I play dance music it's very hard to make a 12-year-old interested, but the stuff that gets a hold of her is the fast pace stuff," he says. "And I think it's because it's an ease getting into something that's so visceral, because it's not just fast – it's fast and tough."
But hardcore, or "rave", is a sound that has very much come to the forefront of music on the spectrum above 170 BPM, after a while when it was often looked down upon in dance music. TAAHLIAH has noticed an explosion in Glasgow for the sound. "Thinking about my own city, the music that's prevalent and played at most nights is hardcore music," she says. "I think back to perhaps two years ago and there was perhaps one hardcore event in the city, but now there's multitudes upon multitudes.
"Perhaps it's within the zeitgeist of enjoying music that has very much been attributed to the working class," she says. "Perhaps before when people were more financially stable, people had an air of wanting to listen to a particular type of music because they thought it was genuine, or interesting or cool. But I guess hardcore and hardstyle negates that because it was always seen as 'bam-y'."
The term 'bam' is local to Scotland and is often used to refer to younger, working-class people who "causes a lot of trouble" says TAAHLIAH – a politician-speak equivalent would probably be "anti-social behaviour". But in a post-lockdown era of unaffordable rent, skyrocketing energy bills and a generation of young people whose economic prospects look bleaker than their predecessors – the futility of chin stroking is perhaps more evident than ever.
In the late 1980s and early 1990s, large swathes of the British economy and workforce was reeling, after much of the country's industry and manufacturing was dismantled under Thatcher's government. In the face of widespread unemployment and financial hardship, particularly in the North of England and certain industrial areas of London, the free party movement – an expression of unrestricted hedonism and release despite the conditions – thrived. And to soundtrack the movement was hardcore music and acid house.
With the country now facing the consequences of a late-stage Conservative government, with a looming recession amid the cost of living crisis – it's perhaps not such a different scenario to the conditions that spawned 'Experience' in 1992. Listening to the album now, it almost sounds new and refreshing, with its rapid, percussion-filled breakbeats and vocals samples not too dissimilar to those pushing the jungle, hardcore and drum 'n' bass scene forwards now.
In the same way that deeper, hypnotic techno, with its 128-130 BPM long transitions and build ups has largely fallen out of fashion for a higher energy, more in-your-face version, so has the sparser, headier, sub-bass-pressure driven drum 'n' bass that has dominated the past decade or so.
It's important, however, that the music is appreciated and not fetishised – a number of key figures pushing the sound are from the working-class backgrounds that TAAHLIAH notes. In the case of two particularly influential artists at the moment (who coincidentally happen to be touring together at the moment), SHERELLE grew up in North East London's outskirts and I. JORDAN in Doncaster. The pair spoke about the subject in a recent interview with Mixmag, with I. JORDAN noting that the hardcore they are often associated with sonically, was music that soundtracked their youth.
"I grew up with hardcore, trance, drum 'n' bass," said I. JORDAN. "Drum 'n' bass is still huge in The North, bassline, donk – it wasn't until I was around middle class people who listened to techno when I moved to London that I got to engage with those sorts of sounds."
While it may seem that these sounds might be coming back within (predominantly middle class) clubbing circles in the centre of cities like Manchester and London, in the outer margins they never went away. "It's only coming back to the forefront because a lot of working class people have been playing it," said SHERELLE in the same interview. "Tim Reaper, Coco Bryce, Nia Archives are all working class people – those people who have looked down on it have been middle [class], upper [class] but it doesn't seem quite to their taste until one of their favourite DJs drops it."
It's not only the economic conditions that seem to reflect the early '90s though, but other aspects of late-20th century culture seem to have creeped into the dance music landscape.
mixtress, real name Rini Mukherjee, a DJ talent who probably sells too many tickets to be described as an 'up-and-comer' has also noticed the change. "People like PinkPantheress and Nia Archives – these bigger acts – are playing and producing more happy hardcore and jungle-influenced music," she says. "I like to call it musical nostalgia porn, there's a lot of '90s-ism coming into play – you see it in the clothes, you see it in clubs having phone camera bans, and that includes taking yourself less seriously – being more free to dance and be free-spirited in music." With the return of youth sporting baggy jeans, crop tops, and even taking their photographs through 20-year-old point and shoot cameras for that 'vintage feel', much has been made of the Gen Z led revival of '90s culture and fashion. And naturally the music has been a part of that movement. But while she herself is known for her high-energy sets, full of boisterous hardcore and jungle, mixtress thinks that the reputation doesn't fully reflect her sound and taste. "My music is quite hard and fast, and is probably what people know me most for," she says. "But going forward do I think it's going to continue being like this? I don't know."
"TikTok's got something to do with it," she continues. "Even when I DJ I play different music when I'm playing on Boiler Room because I know children are going to be watching it, compared to when I played at fabric for example, I knew the crowd was going to be a bit older, so I was like: 'Okay, I can play more serious music'.
"Not that [music played on Boiler Room] isn't serious; it's harder, it's faster but it's also more bootleggy," she continues. "Not to shit on Gen Z, but a little bit of it is down to Gen Z's attention span. I could play a whole set of bootlegs at a student night in Manchester and everyone's going to lose their shit – and they do."
Knowing what context they are playing in, and the crowds that they are trying to get moving has long been one of the key skills of being a good DJ. But with the added dimension of dance music being consumed in short quantities – whole hours-long sets being condensed into a short, barely 30 seconds-long clip that lives long after the event – via TikTok videos and Instagram reels, it's now become a skill to produce a viral worthy moment.
"Modern communication now is fast paced, like you grab what's in front of you to say what you need to say," Man Power says. "There's a quickfire re-conceptualisation of all sorts of media types at the moment and I think dance music has been pulled into that, and that doesn't make sense if it's slower or more considerate – it needs to be brash, in-your-face and then move on to the next thing."
At the pitched-down end of the UK bass continuum, speed garage – 2-step UK garage's four-to-the-floor, more energetic sibling, has not only come to the forefront of the UKG scene, but has also been commonly rinsed by DJs more associated with house and techno.
"Speed garage has been huge, not only for UKG DJs," says long-time UK garage DJ and collector Riz La Teef. "Eris Drew drops bare, Call Super, Ben UFO etc., and there are loads of younger people making it now.
Hailing from Manchester, Interplanetary Criminal had a monster 2022, going from a relative unknown to hitting the top of the UK charts with his collaborative anthem 'B.O.T.A. (Baddest Of Them All)' with Eliza Rose. Driven much through internet success — including 'the TikTok effect' and a heaving Mixmag Lab On Location performance — his sets, filled with multiple clip-worthy speed garage bootlegs, bassline-driven house and a sprinkle of donk seasoning, have gained serious traction across the UK and beyond.
When chatting to him about his sensational year, Sarah Story on her BBC Radio 1 Dance Future Stars show said: "We knew speed garage was coming back in a big way but it feels like you are at the forefront of the comeback at the moment."
"In 2019 just before lockdown it was just like the 2-step garage was dominating," he replied. "Now it feels like speed garage is at the forefront of every garage genre – and the edits, oh my days. What I like about it is from 2005 up to 2023, it's the same formula, but it works."
The music then is the culmination of that revival of '90s spirit and looseness. Those bootlegs that pop off on social media and in the club are unapologetically dancefloor-designed – music that makes people go "Oiii!", and isn't that really what it's all about at the end of the day? "Fast music is returning," says mixtress. "But it's all about making people dance."
But thinking about the ebb and flow of dance music, the mind has to start to wonder what comes next. Surely as the kicks continue to get quicker, the hi-hats heavier, and the breaks more intense, there is a finite saturation point before the music morphs into a wall of noise.
Sunil thinks that the change has already begun, and has at times noticed dissonance between crowds and DJs. "The hard and fast thing is losing a lot of older fans, and this isn't good for clubs," he says. "Much of the time crowds are struggling to keep up with the tempo, I've been at some gigs where the music and crowd reaction are completely out of kilter.
"Don't get me wrong, I love fast music, but you have to read the room sometimes too – I've always had a harder and faster gear in my sets," he adds. That's how I treat it though, as a gear, not a continuous mega-fast tempo all throughout the set – I think you're limiting yourself that way. I might prolong some of the hard and fast bits for longer now, as you get a more unanimous reaction on the dancefloor these days. When I did this 10 or 15 years ago, not everyone was ready to come with you on that journey."
Man Power wonders about the longevity of the sound. "There's a disposable nature to a lot of music now," he says. "More and more it's about having a crazy, pitched up sample, and the sillier the better. It's not to say there aren't amazing bits of music coming out of it, I'm sure that there will be a fair share of classics that come round again.
"[But] none of it is permanent," he continues. "The tempos will change with fashions, haircuts and footwear – the second you think you know what it is and what's important, is the second it's about to change."
But as his recent success is testament to, there remains and always will be space for music of all genres and moods. What is a more obvious trend in certain settings and on certain platforms isn't necessarily fully representative of the range of what's happening in dance music. There have always been underground scenes even in times when music in the past has ebbed towards being brasher, like the EDM explosion in the early 2010s, or indie sleaze in the 2000s.
"The deeper, more rootsy stuff is always second place to the mainstream" he says. "I guess it's the difference between high street fashion and catwalk fashion – one is a statement of creativity and the other one is how [that's] being diffused to a lot of people."
And it's the same story in reverse. "There are hard and fast music styles that have always been that way, and will continue to be," says Sunil. "What will change more is the amount of people that jump ship from these styles and steadily reposition themselves."
Dance music has always moved in cycles – peaks to troughs; ebbs and flows; lairy to subtle – "I don't think we're headed for a big [early 2000s-esque] minimal explosion. I mean, that didn't really go anywhere did it?" asks Sunil. "It just became tech-house. Also faster tempos don't have to go away. I like how they've become more popular, it's just when things become 'all or nothing' that it starts to feel unhealthy, just like in the minimal era."
What will happen next in the dance music world is really complete speculation at this stage. But perhaps, like Sunil hopes, the conversation might move away from speed or genre altogether. Electronic music is diverse, complex and layered – BPM of course is just one small element of what makes a track. Gyorgy Ono, who has been DJing and promoting parties in London for close to 20 years now, thinks it's too simple to refer to music just by its speed. "I find the word 'fast' is problematic," he says. "I think people get confused with the energy side of it and they just focus on the fast element."
Since the pandemic, he's noticed a different crowd of people coming to his nights – itching for a certain energy, but who are open to other sounds and most of all, a good party. "I can just see when the music tempo goes up they go nuts, but when it changes they stick around, and they go with it and I really respect that," he says. "I really respect people who can get out of what they feel is their thing and embrace what they don't usually listen to." And isn't open-mindedness the key spirit of partying and electronic music? "When you talk about 'fast' or 'speed' you need to talk about the spectrum of it," he continues. "Because in the end it's about music."